BROOKLYN CENTER HIGH SCHOOL
Thielen Foundation and Brooklyn Center High School have been in partnership since 2018 to bridge the gap in a student body where 80% of students were eligible for free or reduced lunch.
The pilot program uses athletics as a catalyst for greater academic success as it was apparent that some additional resources were necessary for the young athletes to be successful. Thielen Foundation's program began with upgrading the school's weight room, purchasing $10,000 of team sports equipment, and providing $1,000 scholarships for qualifying  varsity athletes on each of the school's teams. With the support of partners – ETS Sports Performance, SCHEELS, Adidas, Pizza Hut, Kind Bars and MATTER – the students will receive necessary apparel, healthy snacks and nutritional education, plus inspirational visits from Adam & Caitlin.
The goal of the pilot program is to incentivize students to complete their sports season, maintain a 2.0 GPA or higher, and learn about healthy lifestyle habits – all which ultimately will lead to increased confidence, leadership qualities and success in reaching their full potential.
In 2021, Thielen Foundation started to raise funds to fix the stadium lighting that had been out for 3 years, taking away Friday night lights from the students, school and community. In June of 2021, the new stadium lights were installed thanks to Thielen Foundation sponsors and the foundation's community. 
BCHS was able to play their first game under the stadium lights in over three years in September with Adam and Caitlin in attendance.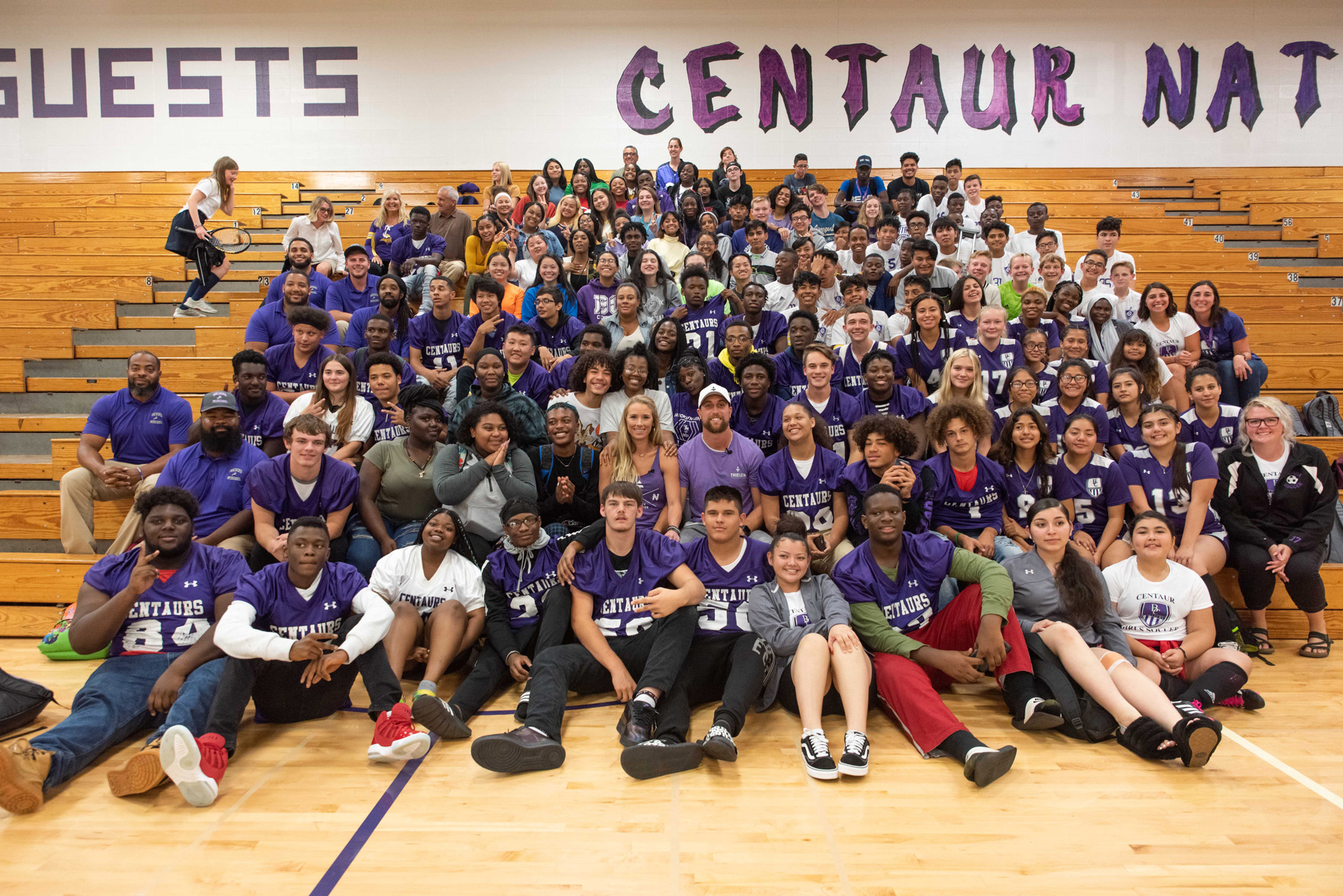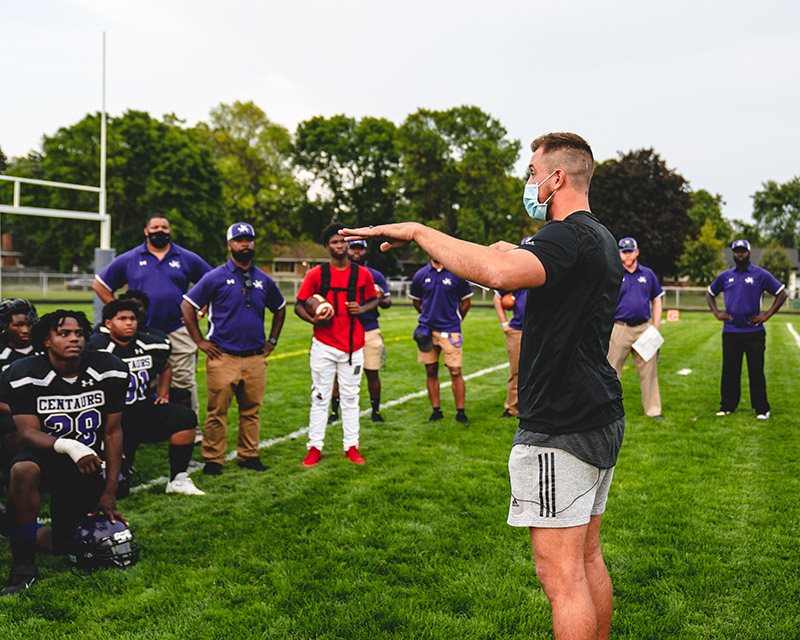 "As a 1981 graduate of Brooklyn Center High School I'd like to thank you wholeheartedly for your support of the Centaur athletic program. For decades the Centaurs were a powerhouse in the Tri Metro Conference, excelling in football, track, baseball, and softball. Over the years our demographics changed and sports participation declined, but the pride in the program continued. With your support Centaur sports have a fighting chance. You've helped renew enthusiasm for academics and athletics at BCHS among the student body.

 

My father was the principal at Brooklyn Center High School from its creation in 1960 until he retired in 1983. My two brothers and I were all three-sport athletes at BCHS and benefited greatly from the experience. We continue to support BCHS financially through the Centaur Foundation. While our father passed away in 2012, he'd have been absolutely thrilled that a Minnesota athlete from Detroit Lakes who made it big cared enough about high school athletics to give back."

-Neal B.
"My daughter is an athlete at Brooklyn Center. We just wanted to say thank you for your generosity and encouragement you have given these amazing kids."

-Heather H.
SIGN UP FOR OUR NEWSLETTER
Enter your email to receive the latest updates from our organization.

Donor and Refund Policy Available Upon Request - 501(c)(3) EIN: 82-5085997